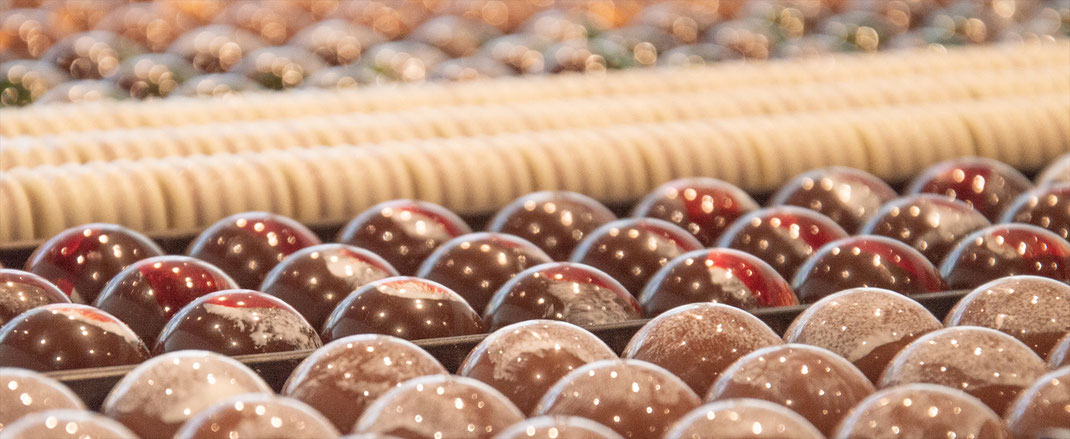 Op mijn 26ste heb ik bereikt wat ik altijd heb gewild; een job die ik met passie uitvoer en waarbij ik volledig mijn eigen ding kan doen. Dat ik hiermee ook anderen gelukkig kan maken, is uiteraard ook mooi meegenomen.
Na het secundair onderwijs heb ik een opleiding tot patissier gevolgd waarbij de kiem werd gelegd voor mijn liefde voor chocolade. Na die opleiding heb ik me, onder andere via zelfstudie, toegelegd op het perfectioneren van mijn kunnen. Ben ik ondertussen al dé perfecte chocolatier? Nee, absoluut niet. Maar ik verleg dagelijks mijn grenzen en vind het ongelooflijk leuk en uitdagend om te blijven experimenteren en om nóg betere producten te kunnen aanbieden.
"My biggest passion? Food. Exquisite food. It's as simple as that."

I was raised in a family of foodies. You can probably imagine how excited they were when I finally found my calling. I learned the basics when I was training to become a patissier. After a couple of weeks it dawned on me that pastries and bread weren't really my cup of tea but that chocolate was my one and only true passion. I did extensive research, tried out different kinds of chocolate and methods of using chocolate and now, after a couple of years of experimenting I'm proud to be a self-taught chocolatier with his own shop and workshop.
I am very disciplined and passionate about my work and I challenge myself every day to push boundaries and to keep experimenting to create even better products.  
In 2015 besloot ik om als zelfstandig chocolatier aan de slag te gaan. We bouwden een deel van de woning om tot mijn eigen atelier en van daaruit kon ik me dagelijks bezighouden met het creëren van nieuwe smaken en producten. Ik werk op vaste basis samen met verschillende restaurants, patissiers, e.a., maar nu wordt het ook tijd om me aan de volgende stap in het ondernemerschap te wagen: een eigen winkel.
In mijn winkel, in het hart van het Antwerpse Eilandje, kan je me aan het werk zien in mijn eigen atelier. Hier zal je kunnen proeven van mijn verschillende creaties die ik volledig zelf én met de hand maak. Hierbij maak ik enkel gebruik van de allerbeste ingrediënten; pistachenoten uit Bronte, amandelen uit Avola, hazelnoten uit Piemonte, sinaasappelen en citroenen uit Corsica en Sicilië, etc. Bij IN CHOC staan de pure, eerlijke smaken voorop.
I love working with the best and the freshest ingredients. I find it important to work with suppliers who know where to find the most exquisite ingredients to pair with my chocolate. Which is why I only use hazelnuts from Piemonte, pistachios from Bronte, almonds from Avola, etc. I truly hope that you are able to taste the quality of the products, the passion and the effort that I put into my products.
You can find me in my workshop and watch me make everything from scratch, by using just the best ingredients, true craftsmanship and love for the product.
Hygiëne en voedselveiligheid zijn uiteraard zeer belangrijk voor ons. Echter, omdat al onze producten in hetzelfde atelier gemaakt worden, kunnen ze hierdoor sporen bevatten van volgende allergenen: gluten, eieren, noten, melk, soja en sesamzaad.
We care a great deal about hygiene and food safety. However, since all our products are (hand)made at the same location, they may contain traces of the following allergens: gluten, eggs, nuts, milk, soy and sesame seed.

Hier vind je alvast een greep uit het vast assortiment, dagelijks vind je ook pralines en andere producten die tijdelijk in het assortiment zitten in onze IN CHOC shop.
Looks enticing, right? Stop by our IN CHOC shop to find even more handmade chocolates and other limited edition products.
The IN CHOC shop and workshop are located in the centre of the buzzing Eilandje neighbourhood in Antwerp.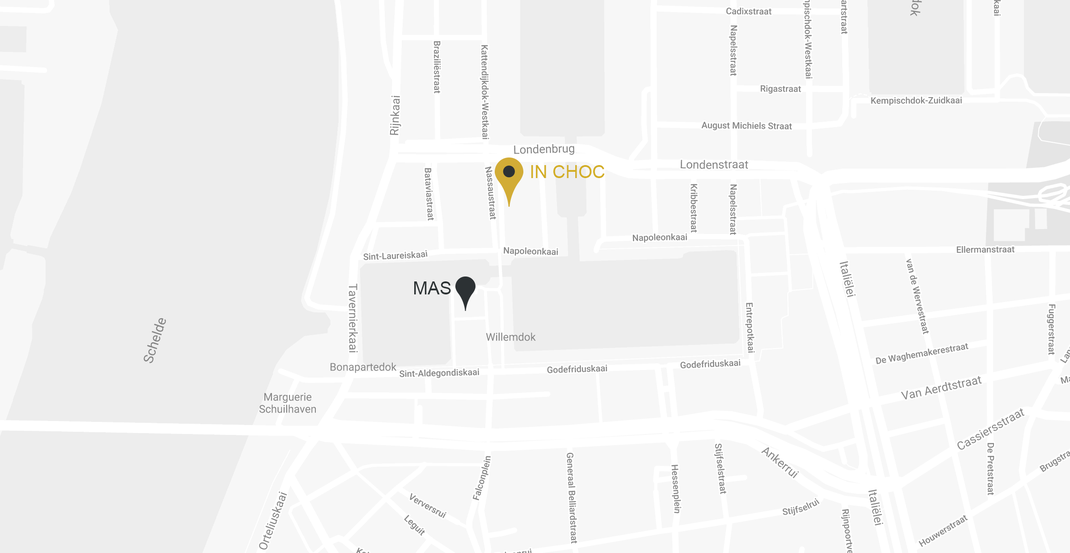 Opening hours
Monday
CLOSED
Tuesday
CLOSED 
Wednesday
10 a.m. – 1 p.m. | 1.30 p.m. – 6 p.m.
Thursday
10 a.m. – 1 p.m. | 1.30 p.m. – 6 p.m. 
Friday
10 a.m. – 1 p.m. | 1.30 p.m. – 6 p.m.
Saturday
10 a.m. – 6 p.m.
Sunday & public holidays
11 a.m. – 5 p.m.
Opening hours
Monday 
CLOSED
Tuesday
CLOSED 
Wednesday 
10 a.m. – 1 p.m. & 1.30 – 6 p.m.
Thursday 
10 a.m. – 1 p.m. & 1.30 – 6 p.m. 
Friday 
10 a.m. – 1 p.m. & 1.30 – 6 p.m.
Saturday 
10 a.m. – 6 p.m.
Sunday 
11 a.m. – 5 p.m.